What words are there to describe sweet Sophia? Her husband, Aaron, was the pastor at one of our largest Baptist churches in the Southern part of Zambia. They were such a nice family. When we went to visit, Pastor Aaron would have his girls serve us drinks on their knees as a sign of respect for us. Unlike other Zambian leaders, Aaron never criticized us for not coming around as much or for not giving him money. He knew that he was the leader of the church, and that it would do no good in the long run to be fully supported by Americans who would just end up leaving. He was an amazing pastor.
Sophia used to walk a 3 hour journey to a rural church in the bush, to support and teach the women of this church. Everyone loved Sophia. One day, she was late coming home. Her husband began to worry and left home on a bicycle to find her and bring her home. This expression of love is quite unusual to see between a Zambian husband and wife.
Pastor Aaron died of AIDS in 2004. We attended his funeral and the outpouring of love was just amazing. How does a pastor end up with AIDS, you may ask? There was a time in his life where he and his family fell away from the Lord, and he was unfaithful to his wife. He contracted the AIDS virus, and after he died, Sophia knew it was time to be tested. She tested positive.
We spent a lot of time with Sophia, but we really invested in her children. She has 4 girls, who are now ages 20, 18, 16, and 12. Annie, Mary, Elizabeth, and Memory. They were just a remarkable family. When our own families came to visit, we took them to Sophia's house to visit and share a meal. We loved this woman.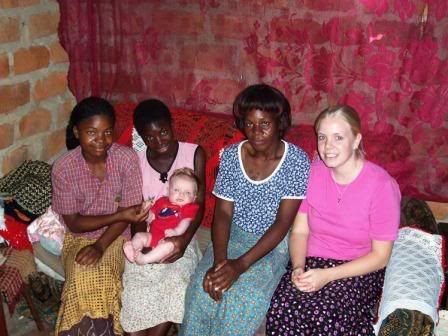 This was the last time we saw Sophia, along with her daughters Annie and Elizabeth.
We learned yesterday that Sophia passed away. We were shocked to hear this, though we shouldn't be. We knew when we hugged her goodbye that the next time we would see her would be in heaven. News travels slow from Zambia, and Sophia actually died last September.
These 4 girls are now AIDS orphans. Though they were raised in a Christian family, and their father was a pastor, Satan found a way into their family. The girls were most likely separated and sent to live with different family members. A family ripped apart.
I know this post is heavy, but my heart is heavy. It seems that no one is immune to the AIDS crisis in Africa.
Rest in peace sweet Sophia. I have no doubt that Aaron met you with his huge smile at the gates of heaven and walked with you to meet your Savior.